Tuesday there was a fun link up floating around, but I didn't participate because that's also the day that I host my own link up. But it was so much fun reading everyone else's responses, that I figured I'd just jump in a couple of days late and join in as well. So today I'll be participating in
Holly
&
Jake's
"Finish the Sentence"
link up! They're having a small contest for the funniest ones, but I'm not really a "funny" writer, so I'm just going to answer them normally :)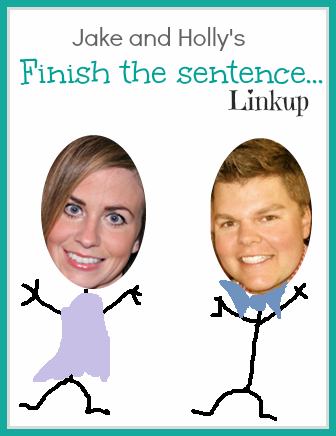 1. If calories didn't count, I would eat...
every slice of bread, bowl of pasta, and piece of pizza I could possibly shovel into this mouth of mine. I'm a sucker for any kind of bread and carbs.
2. On my prom night...
I danced a
whole
lot more with my friends and no one in particular than my actual date. He thought he was too good for some dancing, so I decided I didn't need him anyways...
3. When I go to the store, I always buy...
bananas definitely, and all sorts of veggies.
4. Family functions typically...
are very loud, but lots of fun, and we almost always end up talking about something really gross, too personal, or just plain weird.
5. I think my blog readers...
are some of the coolest ladies, who are so sweet and encouraging of this crazy weight loss journey I'm on! And have also become some great friends as well :)
6. I'd much rather be...
laying on a beach, enjoying the smell of sunscreen and salty air wafting around me, the warm sunshine beating down on my skin, with a book in my right hand and a snack in my left.
7. I have an obsession with...
dresses.
Seriously - I own over 40 I'm sure (and I actually wear almost all of them! Maybe only like 6-8 that I don't), and I still buy new ones pretty frequently. I can justify that though, because I wear a dress 5 out of 7 days a week, so I'm definitely getting good use out of all of these! I loooove dresses :)
8. My work friends...
are kind of nonexistent. The guy that works closest to me drives me absolutely INSANE with his stupidity and loud eating and teeth sucking and smacking noises, so he's definitely not my "friend." And the rest of them are all older-ish ladies. I mean, they're nice and we get along just fine, but I'm not buddy-buddy with any of them.
9. When I created my Facebook account...
it was my last semester of high school and I was getting ready for college, so I finally had a college email address - back when that mattered in order to sign up for Facebook. And I definitely thought I was so awesome.
10. My least favorite word is...
fester. Ick. Also, crud and crevice.
11. I really don't remember...
not too much. I have a crazy memory when it comes to dates, events, places and such. I'm really observant, so I remember super weird details about almost everything.
12. Justin Bieber...
isn't my favorite little fella, but I gotta admit some of his songs are incredible catchy, and I find myself singing along and groovin' a bit, despite the fact I will claim I don't like him.
Well now I just hopped over to Jake's blog, only to find out that the link up is actually closed...womp, womp, woooomp. That's stinks. But oh well, because this baby is already written, and so she's getting published anyways. Whatev's.
And on a completely unrelated note, Jeff and I finished the entire series of Fringe on Tuesday night, and I literally cried for the the last 20 minutes of the episode. It was so good! And so sweet, and awesome, and I was clearly very emotionally invested in these characters and this show. It was an awesome show, and I'm so glad we watched the whole thing over the last few months! But now what do we watch? Anyone have a favorite show to suggest? (That we can find on Netflix or Roku or Amazon Prime?!)
Happy Thursday ladies, only one more day until our ever-beloved weekend!!